In these articles we will be looking forward to see the highest Paid Players in Premier League.
Let see which player that make up the list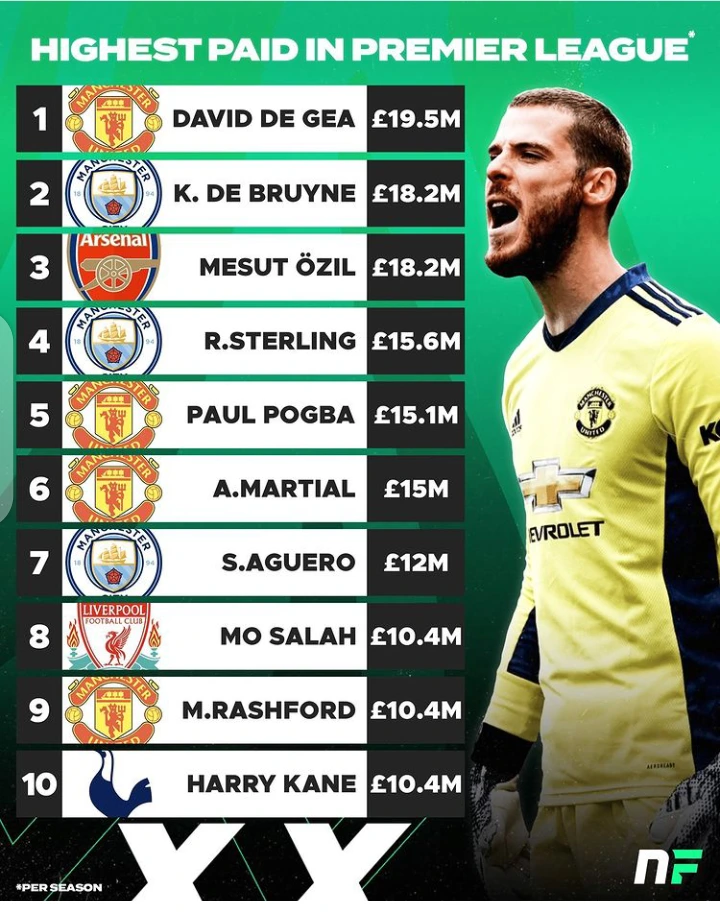 The first name on the list is David Da Gea, the spainard goal keeper is said to be one of the highest Earners in Premier League as he pocket nothing less than 19.5 million euros yearly, the next player with most salary yearly is Kelvin De Bryune the Manchester City player earns nothing less than 18.2 million pounds, the third on list is Mesut Ozil the Arsenal player is one of the highest earner in the Premier League he earns nothing less than 18.2 million pounds.
Raheem Sterling follow suit, he is playing for top club Manchester city and he earns a whooping sum of 15.6 million pounds, another player in line is Paul Pogba the france international pocket 15.1 million pounds yearly, Anthony martial follow suit as the France international player playing for Manchester United earns 15 million pounds, then Sergio Aguero is another player that earns more he pocket a whooping sum of 12 millions pounds.
Mohamed Salah the Egyptian star earn 10.4 million pounds, why Manchester United Sensational player Marcus Rashford pocket a whooping sum of 10.4 million pounds while the last on the list Harry kane, the England striker pocket nothing less than 10.4 million pounds
How do you see these top players that earns big and which player don't deserve such amount?