This is the present condition of living of a resident who wants the Governor of Lagos state to look into the issue causing this mess!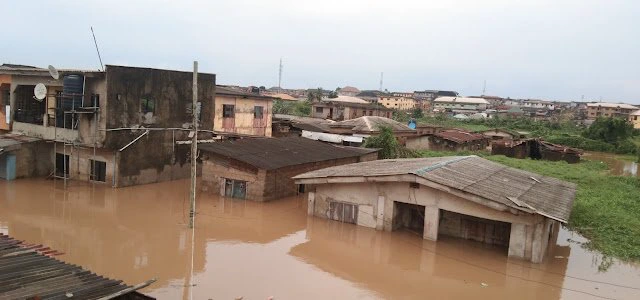 The statement reads;
This is a cry out for help to the governor of Lagos State, His Excellency, Sanwo-Olu.
The residents of Abule-Oki, Iyana-Ipaja, behind the Power Line are seriously suffering the effects of heavy flooding as a result of the blocked Canal.
This issue has been lingering for many years before we moved into this area, but it got worse after some contractors came to the canal area around September 2021 with heavy machinery to dredge the canal and reduce the flooding.
They did a bit of work in September, but by October it gradually dwindled to once a week, twice a week and since then, it seems they have suspended work there entirely without creating an avenue for the flood from different areas of Iyana-Ipaja to get into the canal because currently the heaps of sand dredged out of the canal are blocking all avenues for the flood to get into the canal so we are all suffering the effects.
The whole area gets flooded for hours after little rainfall and no one can go out or come in.
After the flood has gone down, the whole environment is coated with slippery mud and one has to be extremely careful to avoid slipping and falling.
It would be a great relief for us if this issue is looked into and resolved.
Here are pictures after the rain that fell on Sunday afternoon, November 14th 2021.